CH Hopel Popel Royal Heiress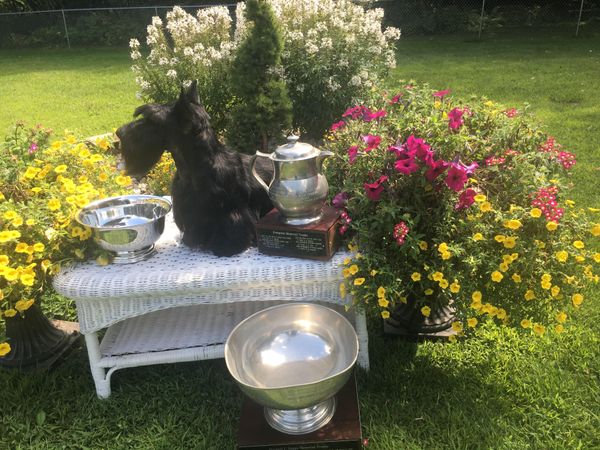 Before her second birthday, Banshee earned her UKC Championship with four Group placements in four shows!  She had won the Scottish Terrier Club of New England awards for most wins for Best Bred by Exhibitor, Best Puppy wins and top Club Scottie. 
Banshee was very close to finishing her AKC Championship in the Spring of 2017 when a careless Show Judge pulled at her head and muzzle injuring her and breaking her spirit.  Tried as we  could to help her regain her love of showing, we sadly decided to retire her as a showdog.
Banshee remains a joy in our lives and her many admirers.
Ch HoppelPoppel Rococo's Kiss

Ch. Rococo's Terrific Thyme

Ch. Rococo's Precious Pearl

Ch. HopelPopel Velma O'Fireheart

Ch. Fireheart's Guns N Roses

Ch. Rockingham's Gypsy Rose Lee

Ch. Stonehedge Southern Cross

Ch. Hopelpopel Keltic SunDown

Ch. Fireheart's Guns N Roses

Ch. Deblin's Call Waiting

Ch. Stonehedge Southern Cross

AKC/UKC Ch.Hopel Popel Caledonia Callin

Ch HoppelPoppel Rococo's Kiss

Ch. Rococo's Terrific Thyme

Ch. HopelPopel Velma O'Fireheart

Ch. Fireheart's Guns N Roses